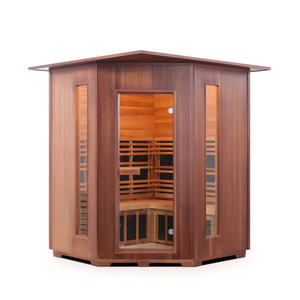 Shipping & Returns: Free Shipping In The Continental USA.
Description
This larger sauna type is well-suited to be placed in the corner to save on space. This particular design characteristic makes this sauna type popular and familiar to people. It can seat up to four. 
As a hybrid sauna, it generates heat from both infrared lamps and traditional electric heaters. These heaters are designed for sauna use. They are reliable and efficient. Sweating is ultimately good for you, in moderation, of course. Use this sauna to relax or to stretch and exercise. It is up to you.
Sweat sessions in the sauna or perhaps mild exercise are extraordinarily beneficial. The design, the setting, the natural wood from Canada makes the usage of this sauna not only beneficial to health but also calming and relaxing. Saunas traditionally improve mood and quality of sleep.
A home with this sauna gains an immense perk.
Features:
Insulation

Real Western Canadian Red Cedar Wood Outside And Inside

Very Responsive Full Spectrum Heaters

Harvia Heater
Low Emf

Eco-Certified

Non-Toxic
Bluetooth Player With Speakers




FM/USB/AUX/MP3

Heats 0-189 F
Specs:
INTERIOR SPECIFICATION
Depth:59"
Height:73"
Bench:two 58" x 22"
EXTERIOR SPECIFICATION
Front wall:38"
Two Back walls:2 x 61"
Two Side walls:2 x 33.5"
Height:96"
ROOF SPECIFICATION
Roof Width:75"
Roof Depth:75"
UNIT WEIGHT
Number of Boxes:5
Product Weight:925 lbs
Shipping Weight:975 lbs
POWER USAGE/AMPS
Amperage:20AMP - 2 separate designated circuits, 1 per each heating technology
Plug:NEMA 6-20p
Voltage:220/240 V
Wattage:2350 W, 2650 W
---