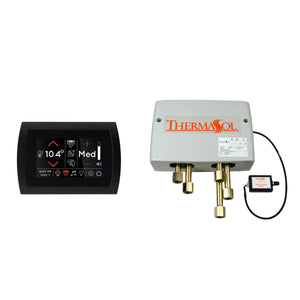 Shipping & Returns: Free Shipping In The Continental USA.
Description
ThermaTouch 7" LCD Smart Shower Kit
Package includes: Control and Smart Shower Valve. Steam generator not included.
The Serenity Light and Sound Rain Head System gives you unparalleled chromotherapy effects, second to none. Choose your color of choice, or no colors at all. Set the tone and throw on your favorite songs, TV shows, movies, and more.

Features
Choose and download from a variety of the most popular Apps; shows, news, weather, video content, music and more
Fully waterproof, ThermaTouch can be installed anywhere: a shower,bathing area, patio, etc.
Built-in Bluetooth®
Ethernet connection
WiFi-enabled capabilities ensure that users automatically receive any updates to the software right to the controller, in-home after purchase.
Powered by Android™
Stereo audio output
Alexa compatible (Available Summer 2019)
Date and time display
Set steam time and temperature
Set and control preferences for two users
Operates: steam, digital shower, light sound and rainhead.
Specs + Installation Manuals
SignaTouch Video
Mitch Altman review of the SignaTouch Control from ThermaSol.
What's in the package:
Serenity Light and Sound Rainhead System
SignaTouch Smart Steam Shower Control Panel
---