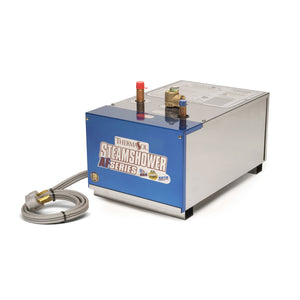 Shipping & Returns: Free Shipping In The Continental USA.
Description
Industry leading AF Series generators incorporate industrial grade stainless steel construction, split-tank technology that enhances performance and lifespan, superior incoloy heating elements, Auto PowerFlush inner tank cleaning system. All integrated within a 100% digital, fully networked system.
Features
Lifetime at Factory Warranty (includes parts and labor)
2 year in-home warranty followed by lifetime warranty
Two Way Digital CAN-bus Technology
Only from ThermaSol
Auto PowerFlush™ pressurized
inner tank cleaning system
Superior heating elements - incoloy low watt density
Split tank
208-240 volt power cord (5 ft.)
50' CAN-bus cable for the controller
Works with ThermaSol Serenity Light, Sound, Rainhead
FastStart™ steam in seconds…not minutes (patented)
Constant steam at a constant rate; no steam lag or burst
Can be plumbed 50 ft. from the shower without purchasing a larger kW unit
Stainless steel construction
Services residential rooms up to 575 cubic ft. with one steam unit
Installation + Specs Manuals
Why ThermaSol is Different (Video)
Learn about the Thermasol difference. Why is a Thermasol steam generator different then other steam generators. The answer is in this video. Thermasol steam ...
---